Shopping Cart
Your Cart is Empty
There was an error with PayPal
Click here to try again
Thank you for your business!
You should be receiving an order confirmation from Paypal shortly.
Exit Shopping Cart
The Brand Wellness Center - Enlightened Dentistry
A NATURAL HOLISTIC APPROACH TO DENTAL HEALTH AND WELL-BEING.
19 West 34th Street

Suite 1022

New York, NY 10001
| | |
| --- | --- |
| Posted on August 18, 2019 at 11:50 PM | |
Black Seed oil, also known as cumin seed oil or black caraway seed oil, is an oil extract from the seeds of the Nigella Sativa plant. Nigella sativa is a small plant with pale purple, blue, or white flowers that grows in Eastern Europe, Western Asia, and the Middle East.
Nigella Sativa Plant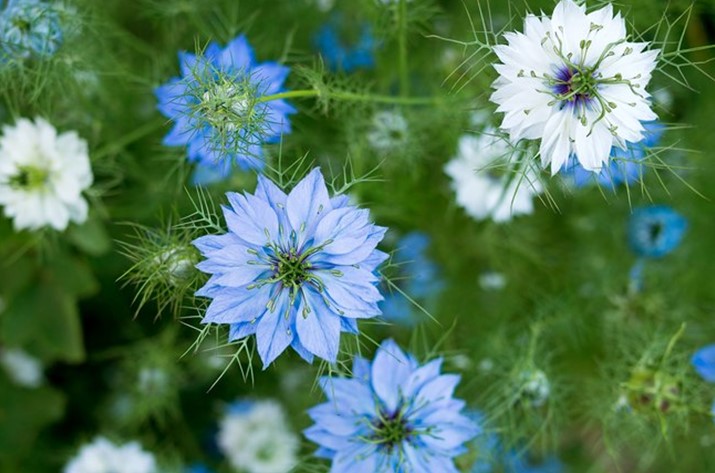 The oil comes from the tiny black seeds of the Nigella Sativa fruit and contains the powerful antioxidants of thymoquinone, phytosterol, amino acids, and omega 3-6-9 fatty acids. Black seed oil has been the subject of scientific research for its reputed benefits on cardiovascular health, immunity, cell metabolism and cytokine balance. This oil has been used a s a natural remedy for thousands of years and is said to "cure everything except death".
Traditionally it has been used successfully to treat:
• Arthritis
• Skin conditions (can be used to topically)
• Diabetes (regulates blood sugar)
• Lowers cholesterol
• High blood pressure
• Asthma
• Obesity
• Kill parasites
• Boost immune system
Upon further research, I found some studies where black seed oil has been successful in treating these dental issues.
• Reduce Dental caries- was found to be very effective for killing off gram positive bacteria (but ineffective for gram negative bacteria)
• Reduce Periodontal and gingival diseases –has an antiplaque activity (results were equivalent to, synergistic with, or even better than the regularly used antibiotics, such as amoxicillin or tetracycline).
• Prevent nerve/pulpal inflammation when applied directly to the inflamed nerve
• Accelerate the healing of mouth ulcers and mucositis especially those induced from chemo and radiation therapy
• Expedite bone healing at dental extraction and surgical sites (good for all wound healing)
• Improve osseo-integration of dental implants into bone
• 4-fold potential effect when used with certain antibiotics. This makes Black Seed oil an excellent choice for treating antibiotic-resistant infections.
• Antifungal activity – to treat candida albicans systemically or topically (use a carrier oil with it)
The information from the study cited above basically provides the basis for a good natural analgesic for most dental related problems. The immune-modulatory activity makes the seed oil a good alternative for oral immune diseases. Additionally, its antioxidant and its antineoplastic activities, which have been extensively studied in relation to several cancers, (including oral cancer) make it an excellent treatment for just about every disease or infection.
The amazing thing about Black Seed Oil is that the plant has no toxicity or health hazards that have been reported by any researchers who have been working on related clinical trials for years. In substantial doses, it can affect blood clotting, so best to speak with your licensed health practitioner for proper dosage, before proceeding.
It does have a tangy peppery flavor that can be unpleasant, so it might be best to mix in with some honey and water to get it down. One teaspoonful once or twice a day is the recommended dosage to be effective and maintain good health. Usually, I would recommend starting at a lower dosage, to deal with any adverse Herxheimer (die-off) reactions that may occur.
Categories: Detoxification, Healing, Periodontal Disease
/