Shopping Cart
Your Cart is Empty
There was an error with PayPal
Click here to try again
Thank you for your business!
You should be receiving an order confirmation from Paypal shortly.
Exit Shopping Cart
The Brand Wellness Center - Enlightened Dentistry
A NATURAL HOLISTIC APPROACH TO DENTAL HEALTH AND WELL-BEING.
19 West 34th Street

Suite 1022

New York, NY 10001
| | |
| --- | --- |
| Posted on December 9, 2010 at 12:15 AM | |
For those of you who are interested in eating healthier, I will occasionally be posting simple superfood recipes that anyone can do. Most are pretty easy and quite delicious. They are meant to be  packed with concentrated nutrition that will nourish your body and soul.
If you are already eating raw or organic or vegan, let me first say "Congratulations".  You are definitely way ahead of at least 95% of the people in this country. However, there is still room for improvement.
You can bet that your fruits and veggies are not as nutrition-rich as the same fruits and veggies that we used to eat 30 years ago.  Most produce has been grown on soil that is so used and reused, that the bulk of the minerals in its earth has been depleted. Minerals in our diet are definitely at an all time low. Some of this is also due to the over processing of our foods in their preparation. The Standard American Diet (SAD) is indeed very, very SAD. 
If you are finding yourself on edge most of the time, anxious, unable to sleep, getting heart palpitations or muscle twitches, then you are probably mineral deficient. 
So how do we remedy this? 
By adding sea vegetables to our diet. They are definitely a high source of minerals, and if eaten on a regular basis, will create a new level of health and vitality in your life. These veggies are also high in chlorophyll content and will have a wonderful effect on helping you to detoxify and feel strong.
Due to popular demand, I am disclosing my secret recipe for seaweed salad. Many of you have heard it before, since I love to talk about eating healthy when you have come to visit at your dental appointments. But it can be a bit challenging to write recipes down on paper when I have a drill in one hand and a mouth mirror in the other.
If the thought of eating seaweed scares you, try halving the recipe below and give it a taste. You will be pleasantly surprised by its sesame seed flavor, and may very well permanently change your perception of sea vegetables forever.
So here it is.
Dr. Brand's Seaweed Salad
1  oz. cut up wakame (most bags are 2 oz.)
1 TBSP toasted sesame oil
1 TBSP umeboshi vinegar (pickled plum juice)
3 TBSP apple cider vinegar
Optional: ground ginger
Cut the dried wakame into 1 inch pieces with a sharp kitchen scissor. Place in a large bowl and soak in COLD water for about 20 minutes. Then let cold water run through it for a few minutes to remove any sediment.  Pat it dry with a clean paper towel or cloth  towel.
Place the clean dry seaweed in a bowl.  Add the 3 other ingredients. Toss and serve.
Note: You can add more toasted sesame oil if you feel that it has a somewhat fishy flavor.
           You can add more umeboshi vinegar for a saltier taste.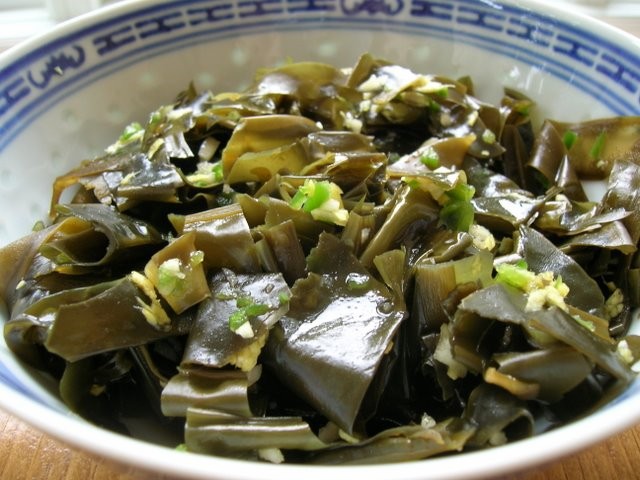 The basic recipe as followed above will give you a delicious seaweed salad.  You can eat it straight or with dumplings or sushi or miso soup (another easy healthy food to make). Or even add it to your conventional salad as a condiment.
Unlike conventional recipes, there is no sugar and no soy. So there is no excuse. Try it and see what you think.
And if you find ways to improve on it, let me know!
Anecdotal story: One patient has eaten this consistently for a week before her menstrual period and for the first  time in her life she had no  menstrual discomforts –no cramps, no nausea, no lower back pain, no hot/cold flashes.  How's that for a cure!
If you like this posting, you may also like: Green Drinks
Categories: Detoxification, Healing, Food
/